Index Funds: What Makes Them Tick?
By: Robert F. Abbott, freelance writer and author of Big Macs & Our Pensions
One of the solid arguments behind investing in index mutual funds is that they're relatively easy picks.
Yet, behind the fund themselves lies a whole arcane world of price drivers. As the following article from Zacks (a reputable research and investment house) shows, the prices of index funds vary from day to day, because of all the financial news that affects the underlying securities (note: this article came out before today's trading session began):
Major Indexes To Start Todays Session Modestly In The Green
Zacks.com, on Mon, 16 Nov 2015 06:15:00 -0800
The major indexes are on track to start today's session modestly in the green despite the Paris events over the weekend. We have a relatively light data docket today, but the rest of this week packs a lot of Retail sector earnings reports. On the …

http://www.zacks.com/stock/news/198034/major-indexes-to-start-todays-session-modestly-in-the-green
As we see in the article, some of the issues that will affect stock and mutual fund prices are the number of housing starts, inflation readings, and department store sales. Those are just a few of the factors that will affect the value of your index mutual fund this week.  Stand by for more next week, and the week after that….
As a mutual fund owner, you don't need to study this information; after all that's why you've 'hired' a professional fund manager.
But, I hope it will give you a little more insight into the ups and downs of your index fund.
The Writer
Robert F. Abbott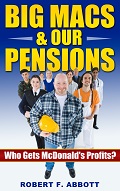 is a freelance writer; see his profiles and analyses of value stocks at GuruFocus.com . He is also the author of Big Macs & Our Pensions: Who Gets McDonald's Profits?
In this book, you will:
Discover the Ownership Revolution, and what it means to your retirement funding.
Find out how much of your lunch bill is a profit for McDonald's, and who gets the profits.
Learn how corporate profits fuel one of the greatest social programs ever developed.