10 of the Best Large Cap Growth Funds
Summary: Use a mutual fund screener to create your own, customized short list of the best large cap growth funds.
By: Robert F. Abbott, freelance writer and author of Big Macs & Our Pensions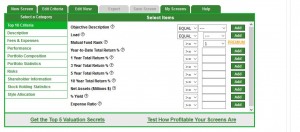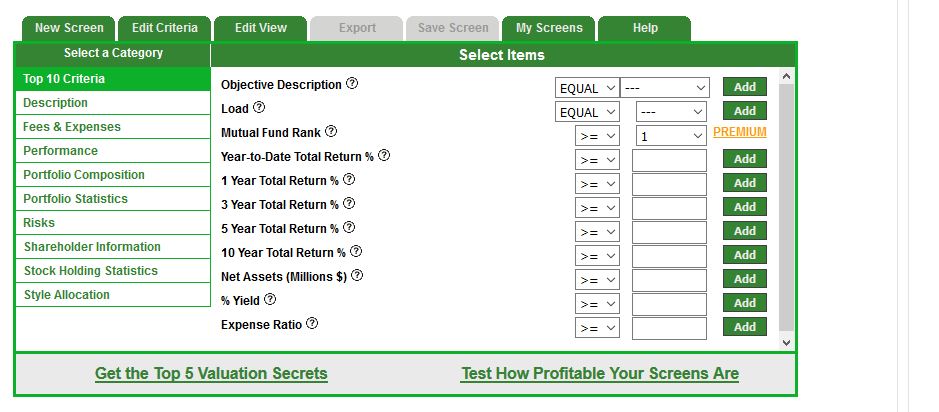 Looking for a mutual fund made up big corporations that have grown faster than the rest of the herd?
Large cap refers to a mutual fund that buys just the biggest corporations, such as those on the Fortune 500 list. The cap in the name refers to capitalization, which is calculated by multiplying the number of shares issued by the corporation by the price per share. For example, a company with 1-billion shares trading at $50.00 would have a capitalization of $50-billion.
And what are growth mutual funds? InvestorWords explains this way,
"They focus on companies that are experiencing significant earnings or revenue growth, rather than companies that pay out dividends. The hope is that these rapidly growing companies will continue to increase in value, thereby allowing the fund to reap the benefits of large capital gains. In general, growth funds are more volatile than other types of funds, rising more than other funds in bull markets and falling more in bear markets."
Combine these criteria and you have large cap growth funds, made up of big companies that are growing quickly. Examples of such big, fast-growing companies include Amazon and Facebook (it's no surprise that two technology companies come immediately to mind).
How to Find Some of the Best Large Cap Growth Funds
To get started, please be advised this list and the images date back to 2016. However, the process remains the same, so you should be able to create your own list whenever you wish.
Now, how do we create a short list of some of the best large cap growth funds?
I screened for them using the Zacks mutual fund screener, and this is what I got (note that this list is provided as just an example; it does not provide recommendations):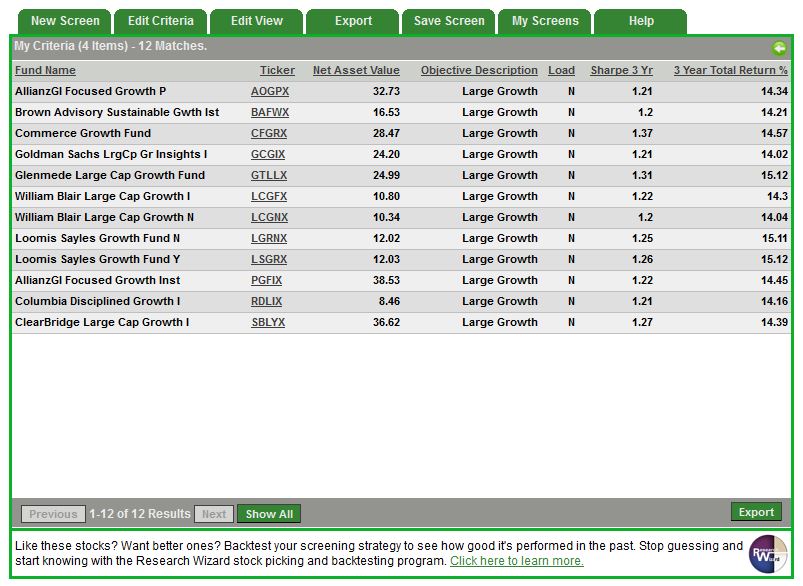 Keep in mind that best is somewhat objective, and each of us can define best with the screening criteria we choose. For more on this subject, see my article, Top Mutual Funds: As Defined by You.
This list is the result of the criteria I selected within the screener (explanations below the image):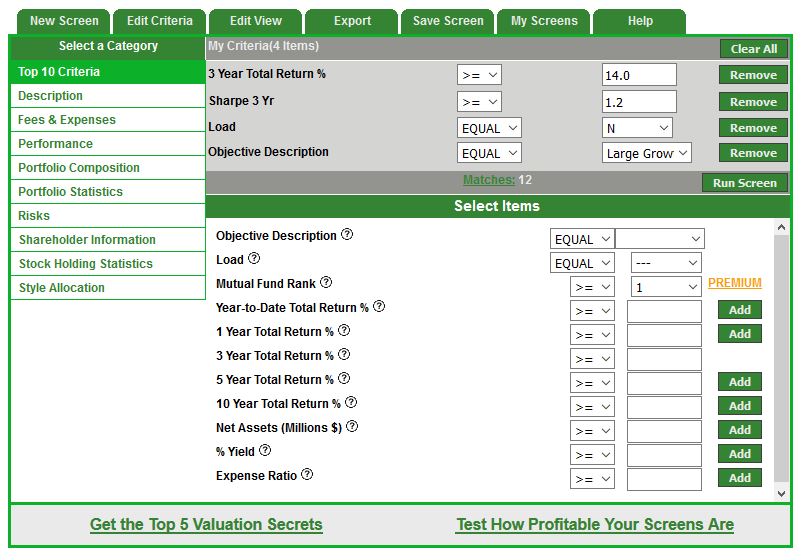 You can see the four criteria in the top, gray area of the screener. From the top, we have:
3 Year Total Return: set to 14%; this includes capital gains and dividends, if any;
Load: N; this refers to whether or not we want to see front-load or back-load funds, to which the answer is No;
Objective Description: refers to the type of fund, in this case Large Cap Growth; and
Sharpe Ratio: a measure of how much risk is involved in achieving a particular level of return; most meaningful when used as a comparison. For more information on this very useful metric, see my article, Connecting Mutual Fund Risks & Rewards with the Sharpe Ratio.
You can, and probably should, tweak these criteria to meet your own investing needs and your risk tolerance. For example, you might want to minimize risk; to do that you would increase the Sharpe Ratio and be prepared to accept a lower total return. You can read more about doing your own screens at Mutual Fund Screener.
As I said above, the large cap growth mutual funds on the screener are not recommendations; they are used as an example of the power of screening.
Finally, once you have a short list of some of the best large cap growth funds, normally a dozen or fewer funds, you can investigate them in more detail to ensure you know what you're getting with each of them, and whether or not they're right for you. Don't hesitate to keep adjusting the criteria on the screener until you get exactly what you want.
The Writer
Robert F. Abbott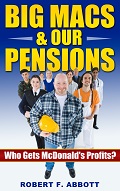 is a freelance writer; see his profiles and analyses of value stocks at GuruFocus.com . He is also the author of Big Macs & Our Pensions: Who Gets McDonald's Profits?
In this book, you will:
Discover the Ownership Revolution, and what it means to your retirement funding.
Find out how much of your lunch bill is a profit for McDonald's, and who gets the profits.
Learn how corporate profits fuel one of the greatest social programs ever developed.
Click here to read a free preview at Amazon.com