10 Top Healthcare Mutual Funds
Summary: This list of healthcare mutual funds illustrates how a mutual fund screener can provide a customized list of top funds with just a few clicks with your mouse.
By: Robert F. Abbott, freelance writer and author of Big Macs & Our Pensions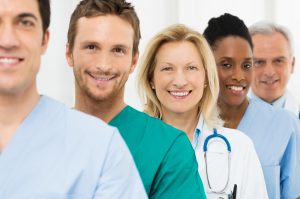 Let's suppose you want to invest in healthcare funds. Where do you start? How do you whittle down the list of prospects, how can you compare them with each other? A host of questions, regardless of which types of mutual funds you're considering.
One way to shorten the process and make it more effective is to use a mutual fund screener. You can find a number of them on the Internet (just enter 'mutual fund screener' into your favorite search engine).
I'll show you what I found when I went looking for 10 top healthcare mutual funds using the screener at Zacks, a website portal for stock, bond, and mutual fund investing.
Before we look at the list however, a couple of notes.
First, this is not a list of recommended funds or suggestions. It's only an educational exercise to demonstrate the usefulness of mutual fund screeners.
Second, in a follow up article, I will show you how I narrowed (screened) the list from about 19,000 funds to a dozen funds, in just a few clicks.
And, now . . .
10 Top Healthcare Mutual Funds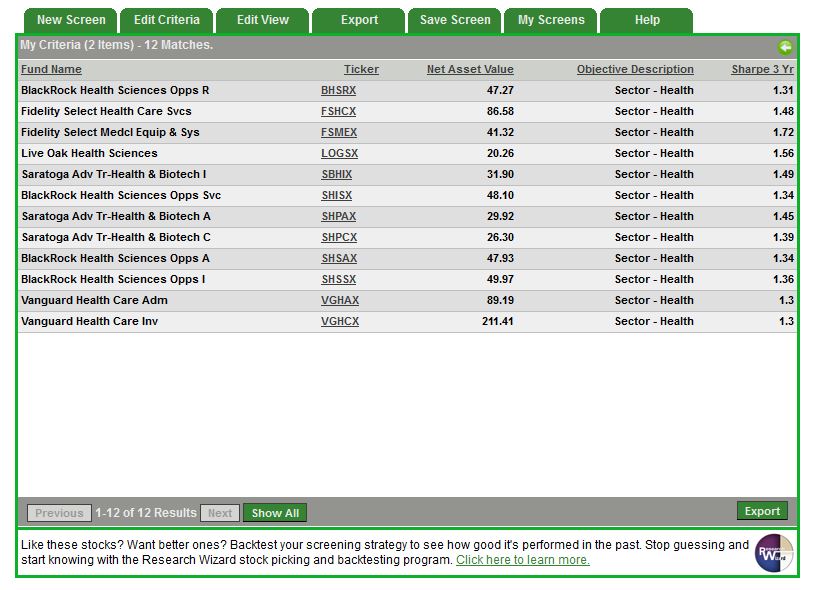 Again, remember that this list does not provide recommendations; it exists for educational purposes only. Also, by the time you read this the recommendations may be obsolete; run your own screen at Zacks or elsewhere.
The list was created with two criteria:
A Zacks' mutual fund rank of 1 (the highest ranking)
A minimum Sharpe Ratio of 1.3 (click here

Sharpe Ratio

to learn about the value of this metric). LINK
Looking at the list itself, we see
the name of the fund
its ticker symbol,
its net asset value (the price you would pay to buy one unit of the fund after market closing on Friday, July 22, 2016) LINK
its objective description (the sector from which the fund was chosen), and
the Sharpe 3-year ratio (3-years is a standard for this measure).
The list comes sorted alphabetically by default, but you can sort by any of the criteria above, by clicking on its name at the top of the column (in the actual screener, not the image on this page).
To follow up, you would investigate each fund and fund company individually, continuing to narrow your list by factors such as safety, long- and short-term performance, and perhaps its price.
Unless you have an unusually large amount of cash, you will want to buy only one of these funds. It's important to diversify your holdings, to ensure that a problem in one sector doesn't drag down your investment portfolio.
Ultimately, only you can decide what you should buy. As discussed in the article, Top Mutual Funds: As Defined by You, your unique goals and risk tolerance should be the most important criteria.
Top 10 lists of mutual funds can help, but they can only take you so far. Your personal choices are the key to successful investing.